The Cliffs of Preston are huge chalk/carbonate cliffs in southern
Palea
 that overlook the ocean.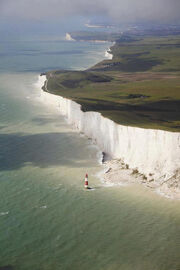 General Info
Edit
These white cliffs are a great tourist attraction and source of tradable material for the citizens of Preston. They're 190 feet high at their tallest point right outside of town.
Since The Red Ruin
Edit
A large fissure has opened up in a section of cliff face, revealing a massive gold vein. This has caused another feud between the Darrow Mining Corporation and Halaen Mining and Drilling over rights to the land. The mayor of Preston is using this to exploit the two companies.